London wins international HIV excellence award in Lisbon
On Wednesday 20 October 2021, London was nominated by the Fast-Track Cities Institute for the inaugural Circle of Excellence Award at the Fast-Track Cities international conference in Lisbon.
There to accept the award on behalf of the capital were Chris Lovitt, Deputy Director of Public Health for the City of London and London Borough of Hackney, Ian Jackson, NHS England London Region and Helen Corkin UK Health Security Agency.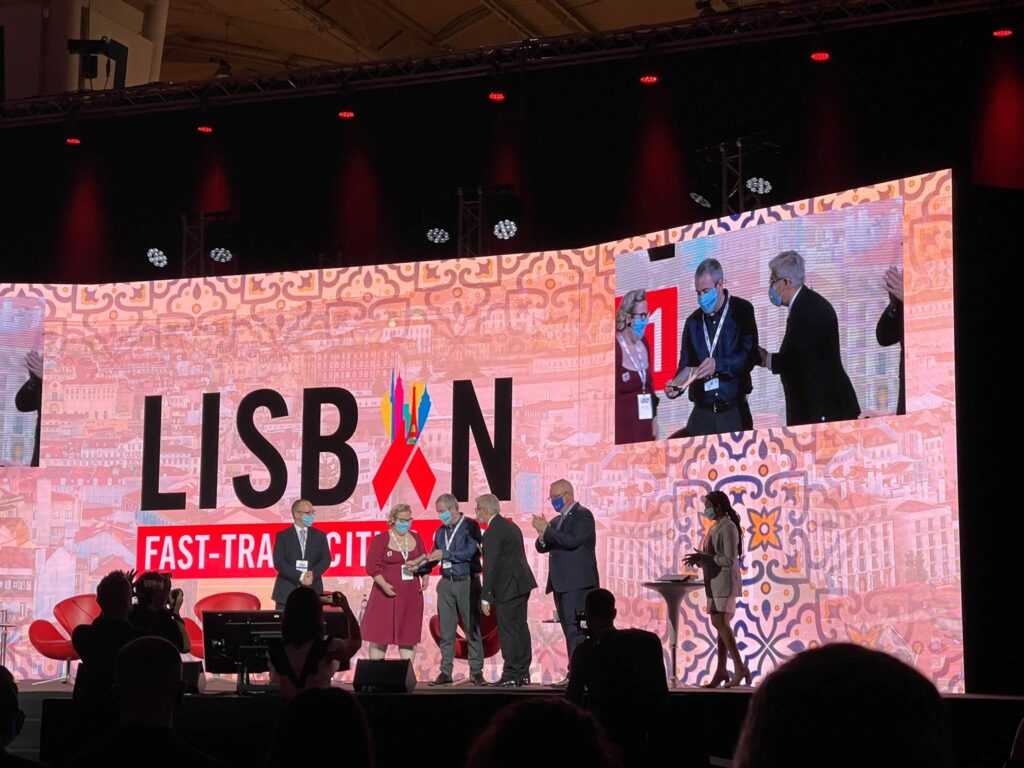 London wins international HIV award.
London was honoured to be joining four other cities in the Fast-Track Cities Circle of Excellence: Bangkok, Nairobi City-County, San Francisco, and São Paulo.
This award reflects 40 years of joint work in London overcoming enormous challenges and finding new ways of working together that are unique and set high standards for other areas of healthcare in our city.
None of this could have been achieved without the relentless passion and commitment of all our partners in London Councils, the NHS, the Mayor's office and public health experts plus the people living with HIV working alongside us every day, their families, friends, allies, activists, and community and voluntary organisations.
London is hugely proud of what has been achieved so far, but there's still a journey to go to reach our joint goals of getting to zero in London and becoming the first city in the world to end HIV. We are under no illusion that getting to zero will be straightforward, but through the joint work we have the tools and techniques to do it.
Through the joint work of the Fast-Track Cities initiative, London was recognised for the innovative HIV improvement community. This is made up of 12 projects with 22 voluntary sector organisations and 9 NHS Trusts all working in new ways to provide care and services to people, whoever they are, and wherever they need them.
London is also working on ending stigma in healthcare services, ending stigma and discrimination in our society, connecting services so doctors can talk directly to HIV specialists when they need them, and bringing the community together to look at evolving HIV care for people, so that we have a truly holistic package of care for people living with HIV ready for the future.
Furthermore, London's boroughs fund the hugely successful London HIV Prevention Programme (LHPP), which is a London-wide sexual health promotion initiative. It aims to increase HIV testing and promote prevention choices, particularly through the Do It London campaign.
London's vision is to be the world's healthiest major global city.
HIV is a great example of what we can achieve when we all work together. We know what works, and if London continues to be ambitious, we will make the target to end new HIV infections in the capital by 2030 a reality.
Read more about our work in London here.
To find out more or get involved in the work to tackle HIV in London email hlp.londonftci@nhs.net.