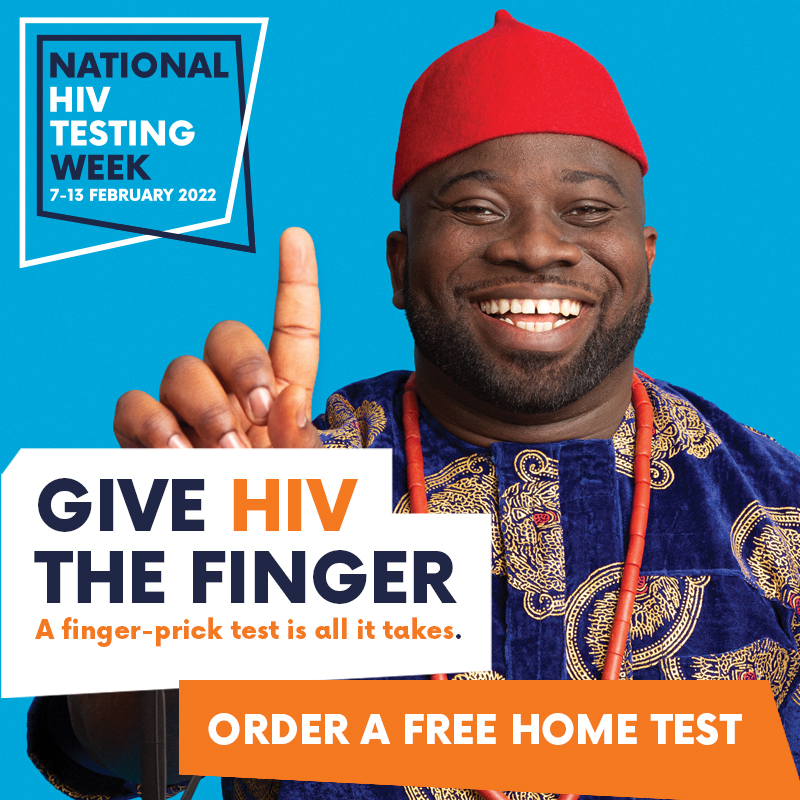 London is world leading in clinical outcomes for people living with HIV and is the global city that is closest to achieving the United Nation's AIDS target of getting to zero by 2030.  This is something that we're extremely proud of and we've publicly committed to achieving that goal.
Testing for HIV is critical to achieving this ambition. People who test HIV positive can access the treatment and support they need to stay well and avoid passing HIV on to others. And new prevention approaches mean that people who test negative can stay that way.
Covid-19 has significantly affected access to and delivery of health services – and sexual health has been no exception. In 2020, the number of people testing for HIV in sexual health clinics in England decreased by over 30 per cent, with the greatest fall being amongst heterosexuals. And, fewer people diagnosed with HIV accessed HIV care – between five and seven per cent less than expected.[1]
The pandemic also had a big impact on the way that services were delivered and in turn on Londoner's expectations of these services and how they could be accessed. Much greater emphasis was placed on online, or 'virtual' interactions rather than face-to-face, with the increased pressure on health services also affecting staff across the workforce.
HIV testing is a key tool in the armoury of services tackling HIV through prevention, treatment and care.
New approaches have been developed for people who are HIV negative to prevent them acquiring HIV, such as Pre-Exposure Prophylaxis (PrEP). If diagnosed today, effective treatment means that people living with HIV can live long, healthy lives and are not infectious to others. They no longer need to worry about passing it onto their partners or their babies.  It's therefore vital that people with HIV infection in London are recognised and diagnosed as early as possible and are able to access the best possible treatment, care and support.
Best outcomes require intervention as early as possible after infection. Yet data from the UK Health Security Agency (HSA) shows that almost half (42%) of people diagnosed with HIV in England in 2020 were diagnosed late, indicating the ongoing challenge in reaching people to test earlier.
What changed for HIV testing during the pandemic?
Over the past two years it's been critical to balance national and regional decision-making on prioritising services and protecting the health of Londoners. In relation to sexual health, the action taken in London so far has been to find ways to mitigate the impact of both Covid-19 and the pandemic response on HIV testing and diagnosis. However, social risks and testing for HIV have inevitably been affected.
According to the National Survey of Sexual Attitudes and Lifestyles, national lockdowns and social restrictions resulted in a change in sexual behaviour within some groups and communities, which in turn may have reduced demand for testing at different points in the pandemic cycle.
Both nationally and regionally in London there was an "NHS is open" campaign targeting members of the public to allay concerns about significantly increased pressure on NHS services as a result of the pandemic. This concern was making people very cautious about accessing necessary treatment and care.
There were major pressures on the sexual health and HIV workforce in London. Staff were moved to other clinical areas, many were unwell with Covid-19 or were self-isolating, and others moved to support delivery of the vaccination programme.
The pandemic has had a major impact on face-to-face services that deliver HIV testing, including HIV outreach services and GP practices. Telephone and online consultations have become widely used, with face-to-face appointments prioritised and resuming at different stages of the pandemic. Online HIV services were already established in London with free home-testing kits available to Londoners in participating boroughs through Sexual Health London, which provided a significant advantage.
The cumulative impact of these changes over the course of the past two years goes some way towards explaining the drop in HIV testing seen in 2021. However, as restrictions on social contact lifted in 2020 and clinics resumed more face-to-face appointments, HIV testing rates recovered to previous levels.
We need to continue to make sure that sexual health services across London can operate effectively as part of London's recovery effort.
Aside from these challenges, the pandemic provided opportunities to increase testing rates amongst some communities at high-risk of HIV in London.  Londoners experiencing homelessness were brought into emergency hotel accommodation so that they could be protected from Covid-19.  This provided an opportunity to roll-out HIV testing for the people at those sites, which resulted in some people with previously undiagnosed infection being able to access effective treatment and many others being helped to prevent future infection.
It's imperative that the message of free HIV testing is widely promoted and uptake encouraged. National HIV Testing Week (7-13 February) provides an ideal opportunity to relay this message across London.
London Councils Do it London campaign
Since 2015, Do It London has been promoting HIV testing and combination prevention in the capital. Thanks to London councils' commitment to HIV prevention, the campaign will continue throughout the next phase of the London HIV Prevention Programme.
The London HIV Prevention Programme is a London-wide sexual health promotion initiative. It aims to increase HIV testing and promote prevention choices. We know what works and if London continues to make the right decisions, new HIV diagnoses will continue to decrease. The programme is funded by London boroughs and managed on their behalf by Lambeth Council.
Tackling stigma
Key to increasing HIV testing in communities is tackling the deeply entrenched HIV-associated stigma that exists in society. This requires raising awareness of HIV as a treatable condition where people living with HIV can expect to live long healthy lives, alongside tackling myths on how HIV can be passed on.
In 2021, Fast-Track Cities London commissioned a national survey by the National AIDS Trust to identify public knowledge and attitudes towards HIV. The findings showed there is a lot still to do to overcome HIV-associated stigma amongst Londoners.
Fast-Track Cities London is about to launch a new programme of activities in 2022 aimed at tackling HIV stigma, which will be delivered by working with a wide range of community and not-for-profit organisations. This includes a self-empowerment programme for people living with HIV to tackle internalised stigma.
Fast-Track Cities London HIV Improvement Community
Investment in Covid-19 testing and vaccination has added to existing knowledge on effective approaches to community engagement across London. This learning is being applied in partnership with local community organisations through investment by London's NHS in the Fast-Track Cities HIV Improvement Community. The HIV improvement community includes projects within community advocacy, outreach for HIV testing and support with treatment adherence.
The road ahead
The past two years have been tough, and like many of our colleagues across London, we're hoping that 2022 will see us continuing to win the fight against Covid-19. We want to build on the achievements we've made in terms of HIV testing, prevention and care in recent years – and continue on our journey to getting to zero new HIV infections, zero preventable deaths and zero stigma in London by 2030.
Getting an HIV test
The easiest way to get tested for HIV (and other STIs) is by ordering a home sampling kit through Sexual Health London.
Simply register at www.doitlondon.shl.uk and complete an online consultation to order your free kit.
Once the kit has arrived, you collect the required samples yourself (there are online guidance tools to assist you). When completed, you send the samples to the lab for testing and you will then be notified of the result a few days later by text or email.
The service is available to everyone aged 16 and over who are residents in most London boroughs.
If you live in Croydon, Greenwich or Hillingdon use these alternatives: SH24  and Check Urself Plus.
Sexual Health Clinics
Due to the Covid-19 pandemic, sexual health clinics currently have reduced access and walk ins are not always available. Telephone triage is in place and it is recommended you order a home testing kit from Sexual Health London in the first instance. If you want to see someone in person you should check the website or telephone your nearest clinic in advance and follow their instructions.
Click here to find your local clinic and their contact details.
[1] https://assets.publishing.service.gov.uk/government/uploads/system/uploads/attachment_data/file/1037215/hiv-2021-report.pdf