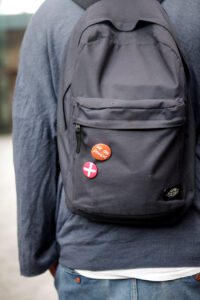 We are thrilled to announce that Terrence Higgins Trust, a leading charity supporting people living with and affected by HIV in the UK, will be leading the Fast-Track Cities London new HIV Ambassador Programme. This partnership marks an exciting step forward in the fight to zero new HIV cases by 2030, working with a longstanding influential organisation committed to making a lasting impact on the health and well-being of London's diverse communities. Terrence Higgins Trust will also be working alongside the National AIDS Trust, and partners Positively UK and NAM aidsmap, who will be delivering the HIV anti-stigma charter for Fast-Track Cities London.
Fast-Track Cities London Ambassador Programme:
The HIV Ambassador Programme, will bring together key organisations, community leaders, and influencers to mobilise and champion innovative strategies for HIV prevention, treatment, care, and support. This is a three-year project to tackle societal stigma and to support London's ambition of reaching zero HIV stigma in London by 2030, working alongside the HIV anti-stigma charter. Terrence Higgins Trust has longstanding relationships with the HIV community in the UK and is well-placed to mobilise local champions.
Terrence Higgins Trust Partnership
By joining as a partner, Terrence Higgins Trust brings its significant expertise and influence in ending HIV-related stigma in the capital to this new partnership for change in London's health and social care system and beyond. The partnership underscores the power of collaboration in tackling complex health challenges. Through the programme, Terrence Higgins Trust aims to:
Recruit and train people living with HIV to act as ambassadors, sharing their personal experience to help highlight and eliminate HIV stigma
Educate different parts of the health and social care sector and other organisations about HIV, including nursing homes, NHS trusts, other frontline services and non-statutory organisations
Work with the National AIDS Trust and Fast-Track Cities London to support the HIV anti-stigma charter to develop a free, online training package, for organisations and all Londoners, to improve HIV awareness and reduce stigma
Seek and promote opportunities for community ambassadors to work within and outside of the HIV sector
Tackle internalised stigma for people living with HIV and societal stigma and discrimination with proven methods that increase awareness, educate the public and challenge societal norms
Richard Angell, Terrence Higgins Trust's Chief Executive said:
"It is very exciting that the team behind Terrence Higgins Trust's Positive Voices – a programme developed and led by people living with HIV to combat stigma through live and personal testimony – has been chosen to deliver Fast Track Cities London's Ambassador Programme. I see time and time again how those we train speak about their lived experience to audiences of all kinds and change hearts and minds while doing so. They inspire me and many others. This partnership will help us reach more people in the capital and beyond."
Pank Sethi is one of Terrence Higgins Trust's Positive Voices speakers and is also one of the first cohort of Ambassadors identified through the London Fast Track Cities Stigma & Empowerment Programmes. Pank said:
"Being a Positive Voices speaker has allowed me to use my story to help people to understand the devastating impact HIV stigma can have when it goes unchallenged. Being an Ambassador for the Fast Track Cities programme allows me to use my story to help change the culture in organisations in the health & care sector and beyond. Terrence Higgins Trust is well placed to lead the way in enabling HIV Ambassadors to use the power of our stories to change people's perceptions about HIV. I'm looking forward to working alongside the other great organisations delivering the HIV anti-stigma charter to create a culture that will provide people living with HIV with the confidence we need to access services without fear of stigma."
To learn more about the Fast-Track Cities London Ambassador Programme and the inspiring work being done to address HIV stigma through peer-led approaches, read here. You can also find more information on our other efforts to reduce HIV-related stigma.