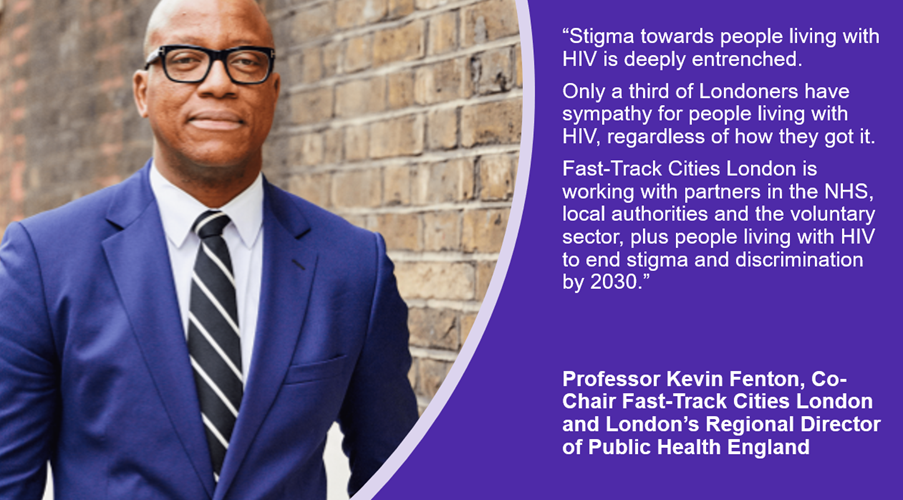 Fast-Track Cities is a global movement to end HIV by 2030.
London is already leading the way in diagnosis and treatment but is now aiming to be the first city in the world to end new HIV infections, preventable deaths and stigma by 2030, making sure everyone with HIV is living well.
Fast-Track Cities has engaged over 100 people and organisations on a plan to tackle HIV stigma and discrimination in the capital, starting with stigma in healthcare settings and internalised stigma.
We are looking for a charity partner, or consortium of partners, to work with London to tackle stigma and discrimination on various levels through a programme of ambassadorship, working with people living with HIV and the HIV friendly city charter – London's first anti-HIV stigma charter.
In 2022, the programme commissioned six projects to deliver a one year Empowerment Programme to tackle internalised or self-stigma experienced by people living with HIV. Furthermore, this week we are announcing the first anti-HIV stigma charter, which we  will deliver over the next three years with a charity partner and other UK Fast-Track Cities.
This tender is looking for a partner to host and deliver an ambassadors programme to:
Train people living with HIV to be community ambassadors for pe
ople living with HIV
Educate different parts of the health and social care sector and other organisations about HIV, including nursing homes, NHS trusts, other frontline services and non-statutory organisations
Work with the appointed HIV Friendly City Charter partner to develop a training package, similar to the Zero Suicide Alliance suicide prevention training, free to all Londoners, to improve HIV awareness and reduce stigma
Seek and promote opportunities for community ambassadors to work within and outside of the HIV sector
Tackle internalised or self-stigma and societal stigma through increasing awareness and challenging societal norms
Fast-Track Cities London does not currently have the experience or expertise to deliver an 'ambassadors programme' to combat societal stigma and therefore seeks to outsource this work to organisations with HIV expertise.
This is a three year project to tackle societal stigma and to support the Fast-Track Cities ambition of reaching zero HIV stigma in London by 2030, working alongside the HIV Friendly City Charter.
Find out more and apply on MultiQuote, searching reference CA11472 following your registration on the e-tendering portal (if not already registered). For more information and to access the e-tendering portal where tender documents are published please visit here.
The deadline for bids is 12.00 on Monday 30 January 2023.
For more information about running the Ambassadors programme please submit clarification questions through the e-tendering portal, the deadline has now been extended to end of Monday 16 January 2023. If you have any issues accessing the e-tendering portal, please email hlp.londonftci@nhs.net.
Find out more about our work to tackle stigma in London here.