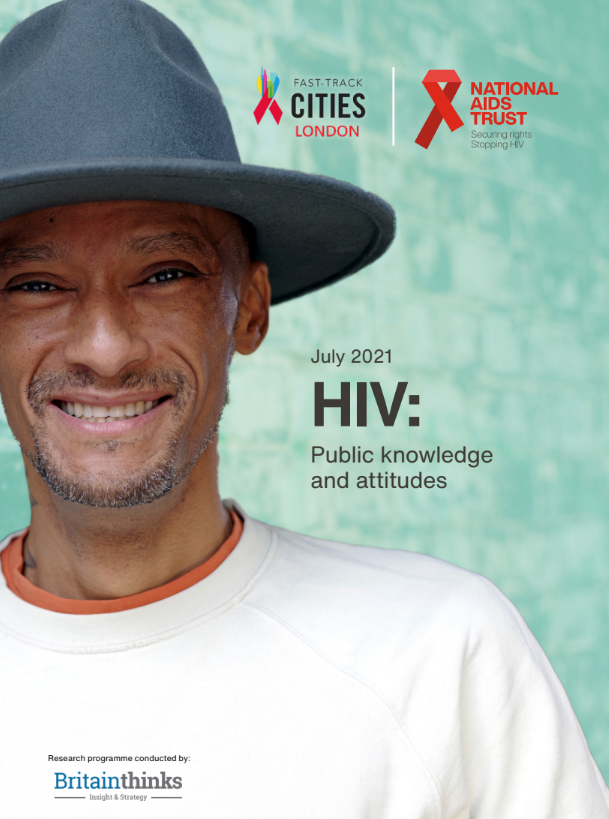 Stigma, discrimination and lack of understanding about HIV persist in London 40 years after first reported cases, new research finds
Forty years after the first cases of HIV-related illnesses and deaths, knowledge and understanding of HIV among Londoners is often patchy and confused and significant levels of stigma and discrimination remain.
These are the findings of new research published today from the UK's HIV rights charity National AIDS Trust and Fast-Track Cities London, the capital's initiative to end HIV transmissions by 2030 [1].
Research agency BritainThinks surveyed 3,000 people and conduced six focus groups UK-wide. This included more than 1,000 people surveyed in London and two focus groups with people based in the city.
Disappointingly, the report demonstrates how HIV remains a highly stigmatised and often misunderstood health condition. Some respondents were confused about how HIV is transmitted, the developments in treatment, and what this means for HIV in 2021 and their answers reflected this.
HIV: Public knowledge and attitudes found:
Londoners were slightly less likely than the UK public as a whole to have high knowledge of HIV transmission – only 15% identified correct potential routes of transmission without identifying incorrect routes
however, people in London are more likely to know that HIV treatment stops HIV from being transmitted – 20% knew this compared with 16% of respondents nationally. If a person is on effective treatment, they cannot pass HIV on and can expect to lead a long and healthy life
31% of Londoners also knew there is medication available to prevent someone from acquiring HIV (PrEP). This compares with 25% nationally
34% of respondents in London fully agreed they have sympathy for all people living with HIV, regardless of how they acquired it. This and other attitudes towards people living with HIV were broadly in line with the rest of the UK.
Researchers identified three themes contributed to people's negative, false and stigmatising views about HIV:
people associated acquiring HIV with 'irresponsible' or 'taboo' behaviours, including condomless sex and promiscuity
respondents had low knowledge of how HIV is transmitted, what the treatment is, and what the outcome of treatment is
negative attitudes towards LGBT people, who are closely associated with HIV.
Despite this, some respondents had up-to-date knowledge about HIV and supported policies to end HIV transmission, such as routinely testing blood for HIV in the NHS in England. The research found:
significant levels of support for people living with HIV and their experiences
respondents recognised people living with HIV were judged negatively by others
they backed policies aimed at improving the rights and wellbeing of people living with HIV, and
increased awareness and understanding among respondents about the improvements to treatment meant HIV diagnosis is no longer the 'death sentence' it was portrayed as the 1980s and 90s.
Read the national report on HIV knowledge and attitudes here.
Read the London report on  HIV public knowledge and attitudes here.
Deborah Gold, Chief Executive of National AIDS Trust, said:
"It's intolerable 40 years into the HIV epidemic, HIV remains a highly stigmatised and misunderstood heath condition. Outdated and harmful beliefs about HIV perpetuate stigma, discrimination and shame prevent people from taking care of their sexual health or from taking HIV tests.
"While we celebrate medical advances meaning people living with HIV on effective treatment can't pass the virus on, this message isn't getting through to everyone. The public are confused about HIV, how it's transmitted, and how it affects people living with it. But our research shows people do recognise they have gaps in knowledge, and a willingness to learn more and to support people living with HIV.
"There's also a huge opportunity in the capital, to build on the momentum of its own commitments as an HIV Fast-Track City and to show leadership and drive forward action on misinformation and stigma.
"This Government's target is to end new cases of HIV by 2030. Improving public awareness is key to achieving this and we urge the Government to embed this in its Action Plan so the public understands HIV as it is in 2021, and not 1981."
Professor Jane Anderson CBE, Consultant Physician in HIV Medicine at Homerton University Hospital and Barts Health NHS Trust, and co-chair of London's Fast-Track Cities HIV initiative said:
"Even after 40 years of HIV, we still have a big problem with the public's knowledge and attitudes. Depressingly, many people still do not know about HIV, are confused by how it's passed on and are unaware that people taking effective HIV treatment cannot pass on the virus. People do not think enough about their sexual health, which means they are not testing regularly for HIV. Sadly, many people have deeply entrenched stigmatising views about HIV either because they do not know enough about HIV or for reasons that link to sexual orientation, gender or race.
"Fast-Track Cities London will be looking at this research in depth and will work with all involved, including the National AIDS Trust, people living with HIV, the NHS, local and regional government and public health experts to end HIV associated stigma and discrimination."
Rebecca Mbewe, an Ealing resident, mentor, and speaker with lived experience of HIV for 24 years, said: 
"It's tough to see in 2021 so much confusion and mixed attitudes to HIV among the UK public. Sadly, people living with HIV feel the impacts of this in our day to day lives. Experiences of stigma are still all too common and often in places which should feel safe, such as in families, communities and in public services – even in healthcare. It's clear that misunderstanding and misplaced fear fuels this stigma.
"At the same time, I'm encouraged by what seems to be a desire among the public to learn more and to support people living with HIV. If we want to change things, we are not banging at a closed door. I am a strong, resilient, woman living well with HIV; HIV does not define me. We must make and take opportunities to improve the quality of information on HIV and to increase visibility of varied and real human experiences like mine to break down the invisible barriers between us that sustain stigma."
For more information email maria.vidal-read@nhs.net 
Notes to editors
 [1] HIV: Public knowledge and attitudes, National AIDS Trust and Fast-Track Cities London, July 2021, nat.org.uk/files/hiv-public-knowledge-and-attitudes-pdf
HIV: Public knowledge and attitudes details the responses of over 3,000 people and six in-depth focus groups surveyed by BritainThinks.
National AIDS Trust has previously conducted five surveys into people's attitudes of and knowledge about HIV between 2001 and 2014.
Fast-Track Cities London commissioned National AIDS Trust to do a new updated survey to look at where public knowledge and attitudes are in London and the rest of the UK now in 2021.
About National AIDS Trust
We're the UK's HIV rights charity. We work to stop HIV from standing in the way of health, dignity and equality, and to end new HIV transmissions. Our expertise, research and advocacy secure lasting change to the lives of people living with and at risk of HIV.
About Fast-Track Cities London
Fast-Track Cities London is part of a global movement of cities to end HIV as a public health threat by 2030. The Mayor of London, NHS England, London Councils and Public Health England jointly signed up to this commitment in 2018. It's the only place that brings together everyone working to end HIV with people living with HIV, the NHS, London's Councils, doctors, nurses, public health experts and academics.
Find out more here: https://fasttrackcities.london/
 About BritainThinks
Founded in 2010 BritainThinks is an international insight and strategy consultancy based in London. BritainThinks' 60+ employees provide insight-based strategic counsel to CEOs, Boards, Secretaries of State and Prime Ministers. BritainThinks is winner of MRS Agency of the year in 2020, an employee owned business and certified B-Corp company. Clients include a range of public and private sector organisations including, The Home Office, McDonalds, the BBC, Activision, LinkedIn, and the Cabinet Office.