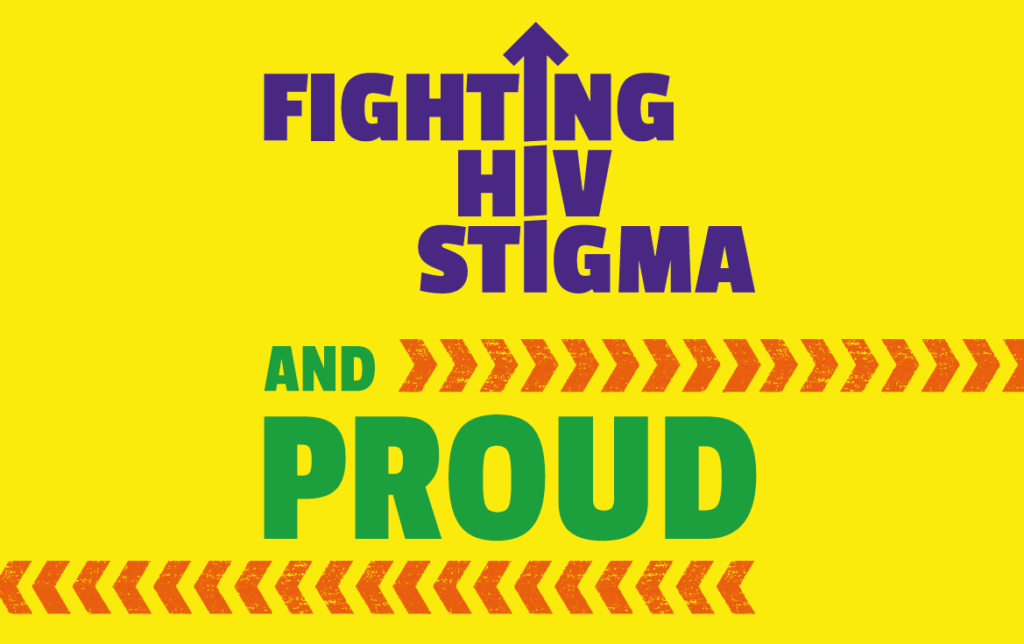 HIV organisations unite to #FightHIVStigma
Voluntary and community organisations from across the city are uniting in the fight against HIV stigma for the Pride in London parade on July 1.
London authorities, including the Mayor of London, NHSE England, London Councils and UKHSA, have committed through the Fast-Track Cities initiative to ending HIV stigma in the city. This Pride month, Fast-Track Cities London are highlighting the work of LGBTQ+ and HIV community groups working tirelessly to make this happen.
2021's joint national survey HIV: Public knowledge and attitudes from Fast-Track Cities London and National AIDS Trust found many examples of outdated and incorrect views which contribute towards stigma faced by people living with HIV:
Only 1 in 5 people in London know that people on effective HIV treatment can't pass it on.
83 per cent agree people with HIV often face negative judgement from others in society.
Most of the public said they would be uncomfortable having a sexual relationship with someone living with HIV.
Coordinated by Fast-Track Cities London, the organisations taking part in the Pride in London parade to #FightHIVStigma include: National AIDS Trust, Terrence Higgins Trust, Positively UK, Positive East, Food Chain, Spectra, METRO Charity, NAM aidsmap, CliniQ, Africa Advocacy Foundation, Sophia Forum, NAZ and the People First Charter.
Matthew Hodson, Executive Director aidsmap said: "The ability to treat HIV effectively must be celebrated. Sadly, the stigma that many of us who live with HIV face has not kept step. Stigma creates barriers to HIV testing and treatment, hampering our ability to end new infections, and it remains an emotional burden for many. We can tackle stigma by challenging prejudice and ignorance at every opportunity. We need to build a society where those of us who live with HIV are able to be open about our status, without fear or shame or the threat of blackmail or violence. Considering the powerful history of LGBTQ activists in the struggle to combat HIV, it's fitting that HIV organisations are joining together at Pride this year, proclaiming the need to Fight HIV Stigma."
The Mayor of London's Health Advisor, Dr Tom Coffey, said: "As our LGBTQI+ communities and allies unite for Pride this Saturday, I'm proud that London is leading the way in tackling HIV and is on course to be the first city to end new HIV infections, preventable deaths and stigma by 2030. Since introducing opt-out blood borne virus testing in all London emergency departments in April last year, we have detected hundreds of previously undiagnosed cases of HIV and put people who were unaware they were living with HIV onto lifesaving treatment. This highlights the speed at which the capital's HIV response is progressing, and I'm confident that we can continue to improve services for people living with HIV and eliminate stigma. This is just one example of how the Mayor and I are committed to working in partnership with organisations to help build a better, healthier, fairer city for all Londoners."
Caroline Clarke, Regional Director for the NHS in London said: "It is inspiring to see how far we have come in London, and we are now able to diagnose people with HIV at much earlier stages and ensure they are given the right treatment so that they can live healthy lives and not pass on the virus.
"We are continuing to see the impact of opt-out HIV testing which is now offered across all London emergency departments, with almost 300 people living with undiagnosed HIV identified from April 2022 to March 2023, who may have otherwise been left undetected for a lot longer, with serious consequences for their health.
"With the NHS celebrating its 75th anniversary this year, we continue to put patients first as we work towards our combined goal of ending HIV transmissions by 2030, with no preventable deaths. I am proud London is leading the way and we are continuing to battle the stigma of HIV."
Professor Jane Anderson CBE, Consultant Physician in HIV Medicine at Homerton University Hospital and Barts Health NHS Trust, and co-chair of London's Fast-Track Cities HIV initiative said: "Even after 40 years of HIV, we still have a big problem with the public's knowledge and attitudes. Depressingly, many people still do not know about HIV, are confused by how it's passed on and are unaware that people taking effective HIV treatment cannot pass on the virus. People do not think enough about their sexual health, which means they are not testing regularly for HIV. Sadly, many people have deeply entrenched stigmatising views about HIV either because they do not know enough about HIV or for reasons that link to sexual orientation, gender or race."
Dr Laura Waters, founder of the People First Charter said: "Stigmatising language is one of the drivers of HIV-related stigma and discrimination. It is our mission to end such language, starting with scientific conferences, journals and national policies. No person is "HIV-infected" they are living with HIV!"
Deborah Gold, Chief Executive of National AIDS Trust said: "Right from the start, community activists have been at the heart of the fight against HIV, particularly the LGBTQ+ community which has been one of the most affected. National AIDS Trust are extremely proud to march alongside our friends and colleagues at the Pride in London parade, as we stand firm in our commitments to supporting the whole LGBTQ+ community and people living with HIV. We continue to strive for equality and to remove barriers in the lives of LGBTQ+ people living with HIV, including the unnecessary discrimination they face accessing fertility care in the UK."
Professor Kevin Fenton, Regional Public Health Director for London said: "HIV stigma is a major barrier to ending HIV transmission in England. It prevents people from getting tested for HIV, and it can stop people with HIV from getting the care they need. Stigma can also prevent people with HIV from disclosing their status to their family, friends, healthcare provider and employers, which can lead to isolation and loneliness. We all have a role to play in fighting HIV stigma. We can learn about HIV, talk about it openly, and listen to the experiences of people with HIV. By working together, we can end HIV stigma and end HIV transmission."
Silvia Petretti CEO of Positively UK said: "As an organisation led and run by people with HIV many of us have experienced the devastating effects of stigma on our health and well-being, especially when combined with homophobia and transphobia. We take part in Pride because we want to be sure that we are visible and heard as people with HIV and that all of us are equally respected and celebrated in the LGBTQ+ community."
Helen Corkin, UKHSA's sexual health lead for London, said: "London has been leading the way on HIV prevention and is getting closer to achieving zero new transmissions, with A&E opt out testing helping to reduce the number of people living with undiagnosed HIV, and in turn reducing transmission. But we have further to go to ensure everyone who needs it has access to PrEP or HIV care and tackling inequalities and poverty which lead to poor health.
"A huge part of our work to get to zero entails tackling stigma – HIV stigma, homophobia, transphobia, sexism and racism – as these issues impact our communities and their health. Worryingly, only 1 in 5 Londoners know that people on effective HIV treatment cannot pass it on (Undetected = Untransmittable) and lots of people aren't currently accessing the HIV care they need.
"It's vitally important to get tested for HIV and other STIs regularly. London HIV clinics are open to anyone living with HIV. Getting tested and getting access to treatment is life-saving; you can thrive with medication and live a long healthy life.
"Remember, U=U and the door is always open for you to return to HIV care and treatment. Contact any sexual health clinic or HIV organisation for help and support with your HIV care."
Mark Delacour, Director External Affairs at METRO Charity said: "We are proud to unite together to fight HIV stigma as we celebrate Pride in London! Standing on the shoulders of LGBTQ+ and HIV activists who have been at the heart of our fight against HIV. Through our HIV support services we directly see the impact of stigma around HIV. Together we can eliminate stigma ensuring our communities are confident to test regularly, access treatment early and are free to live their lives to the fullest."
Jemma Gilbert, Director at Transformation Partners in Health and Care (TPHC) said: "We're here at Pride in London to raise awareness about the critical importance of getting tested and treated for HIV, and to stamp out stigma – if you have HIV and you're on treatment, you can live well and not pass it on."
Parminder Sekhon, CEO of NAZ said: "In this 4th decade of the HIV pandemic, stigma continues to undermine progress and, in combination with fear and shame, it is still driving late diagnosis of HIV in a way that is unacceptable and entirely preventable. Despite advances in HIV treatment and prevention, the epidemic of HIV stigma continues to hinder progress. Normalising HIV, delivering high quality sex and relationships education to young people, centering the experiences of those most affected and ultimately promoting holistic care and support in bold and intentional ways is all of our collective responsibility.  Naz is delighted to be marching with sector colleagues in solidarity this Pride to fight HIV, homophobic and transphobic stigma."
The Fast-Track Cities initiative is a partnership of organisations, including the Mayor of London, NHS England, UK Health Security Agency and London Councils committed to working with partners across the city to reach the following goals by 2030:
End new HIV infections in the capital
Put a stop to HIV-related stigma and discrimination
Stop preventable deaths from HIV-related causes
Work to improve the health, quality of life and well-being of people living with HIV across the capital
For more information contact Maria Vidal-Read, Head of Programme for Fast-Track Cities London at maria.vidal-read@nhs.net.