What's on for World AIDS Day?
Find a list of events, campaigns and activities happening around World AIDS Day. This page is dedicated to hosting charity and third sector partners' activities. Click the '+' symbol to find out more about each activity below.
Rock the Ribbon with the National AIDS Trust (anytime)
The National AIDS Trust are rocking the red ribbon this World AIDS Day. Check out their dedicated landing page to see how you can get involved in raising awareness and funds!
See the website here: https://worldaidsday.org/
BHIVA World AIDS Day Session – Have we got (good) news for you… (24th of November)
The BHIVA Autumn Conference will take place in London for a full day on 24th Nov and the day will culminate in an hours session to mark World AIDS Day, that is led and curated by community HIV Organisations. The World AIDS Day session is 17:30 – 18:30, followed by drinks and canapés from 18:30 – 19:30.
Join us as we celebrate the outstanding achievements of 2023 from the Four Nations. Our guests will share how synergy between people living with HIV and clinicians and researchers leads to positive change.
Registration for the World AIDS Day session and the evening drinks and canapés is free of charge.
The link to register for either the Autumn Conference itself, or the World AIDS Day session and drinks (or both) is: https://medivents.eventsair.com/bhiva-autumn-conference-2023/bhivaautumn2023/Site/Register
Red Run – Victoria Park (25th of November)
Held annually on the last Saturday in November, the World AIDS Day RED RUN is a charity fun run and walk that unites the HIV sector to raise awareness and vital funds for HIV support and prevention projects.
Find out more information: https://www.redrun.org.uk/
Inside The Groove – Madonna Get Together at The Royal Vauxhall Tavern in support of National AIDS Trust (25th of November)
LIVE EPISODE & PARTY – tickets here: https://www.outsavvy.com/event/16756/inside-the-groove-madonna-get-together
Saturday 25th November 2023 – Live Episode at The Royal Vauxhall Tavern. Time to get back inside the groove as the world-famous Madonna podcast returns in time to commemorate World AIDS Day
Our team of experts will be joined by members of the National AIDS Trust to discuss Madonna's lifetime of advocacy to HIV/AIDS awareness and devotion to the LGBTQ+ community throughout her career. Special guest to be announced, memorabilia and merchandise auction.
Plus we'll end the evening with our now legendary wall-to-wall Madonna disco and Veronica Electronica karaoke.
2pm to 7pm
Limited early bird tickets £7.50 plus booking fee
Advance tickets £10 plus booking fee.
This will be a mostly standing event with limited seats, first come first serve on the day, if you have access requirements please contact dave@vauxhalltavern.com 
Comedy Gala for World AIDS Day, proceeds to National AIDS Trust (27th of December)
Gala for World AIDS Day returns with another incredible night of comedy to mark World AIDS Day 2023! The event will take place at Pleasance House, Main House Cabaret at 7.30pm on the 27th of November.
Get tickets here: https://www.pleasance.co.uk/event/gala-world-aids-day
With a fantastic line-up featuring the brilliant Rose Matafeo, Rosie Jones, Nish Kumar, Amy Gledhill, Morgan Rees, Britney, Jin Hao Li, Flo & Joan, Rajiv Karia, Sharon Wanjohi, Jodie Mitchell, Crybabies and Joe Sutherland!
Since 2018, Gala for World AIDS Day has raised over £15,000 for National AIDS Trust, the UK's leading HIV policy and campaigns charity.
NAT works tirelessly to prevent HIV from standing in the way of health, dignity and equality, and campaigns to end HIV stigma and stop new transmissions by 2030.
ACCESS TICKETS
To book in access tickets including complimentary personal assistant tickets, wheelchair accessible seating or to arrange any additional venue assistance, (such as hearing loops, early venue access or specific seat requests), please contact the box office directly to make your booking.
For more information about our venues and performance spaces, please visit our access pages here.
Phone: 020 7609 1800
Email: access@pleasance.co.uk // boxoffice@pleasance.co.uk
Wandsworth Oasis Charity Celebration at the Two Brewers (29th of November)
Wandsworth Oasis would like to invite you to join us at our annual Charity Celebration on 29/11/2023 at The Two Brewers from 7.30-10.30pm to mark World Aids Day. This event is about coming together as a community to make a positive impact on the lives of those in need. Wandsworth Oasis aims to raise awareness and funds to support people living with HIV and fight the associated Stigma.
The first 100 tickets sold will receive a complimentary glass of Prosecco Prepare yourself for an evening of captivating performances and fun. Further more an auction will be held throughout the evening, offering a fantastic array of items generously donated by local businesses and individuals. This is an extraordinary opportunity to bid on exclusive experiences, unique artwork, and luxury goods, with all proceeds directly benefiting our cause. Together, let us ignite a spark of compassion and kindness that will illuminate the lives of those in need. We look forward to celebrating a night of generosity and unity.
Find out more and buy a ticket here: https://www.eventbrite.co.uk/e/wandsworth-oasis-world-aids-day-event-tickets-715897999187?aff=oddtdtcreator
Daisy Puller's World AIDS Day Cabaret supporting Positively UK (30th of November)
Daisy Puller's Annual World AIDS Day Cabaret is back for its third year, bigger and better than ever! Taking place on Thursday the 30th of November at Neon Piccadilly, W1J 9LN. Raising funds and awareness for peer-support charity Positively UK, this evening of drag, cabaret and burlesque promises to be educational, emotional and VERY entertaining.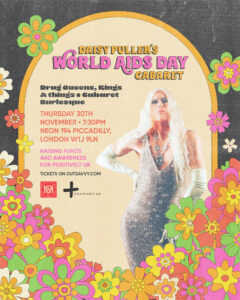 Daisy will be joined by a stellar line-up of iconic drag queens and kings, cabaret and burlesque stars from the London scene, all set to raise the roof – and those all-important funds to help Positively UK do its vital work. We also teamed up with Karen Stanley to design an exclusive t-shirt to promote the cause. Because when it comes to HIV Stigma, Don't Keep Quiet!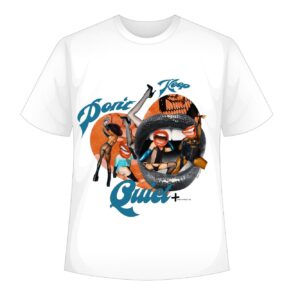 This event is organised individually by Harun Tulunay and Daisy Puller but all funds will be donated to Positively UK.
Date: 30.11.2023 Thursday
Location: Neon 194 Piccadilly, W1J 9LN
Find out more, sign up and donate here: https://link.outsavvy.com/wadcabaret2023
Terrence Higgins Trust boutique World AIDS Day late night opening (30th of November)
Our wonderful boutique in Pimlico will be holding a festive late night opening from 5pm-7pm on the eve of World AIDS Day. Do join us for a glass of fizz and a browse of our wonderful pre-land and brand new items. You might find a lovely Christmas gift for a friend, or even yourself!
You can find us at Terrence Higgins Trust Boutique, 19 Churton Street, Pimlico, London, SW1V 2LY.
More information here:  https://stg.tht.org.uk/take-action/fundraising/other-ways-support-us/boutique-charity-shop
Francis Crick World AIDS Day Event (1st of December)
World AIDS Day is commemorated on 1st December every year. To raise awareness of AIDS and HIV research, we are organising a 'World AIDS Day event' at the Francis Crick Institute on the afternoon of Friday 1st December 2023, from 14:00-18:00. This will be will open to members of the public as well as colleagues at the Crick and beyond. We hope that this will raise awareness of HIV and AIDS amongst scientists, their friends and the wider public, as well as highlighting the importance of HIV research. The theme for this year's event is 'Progress towards HIV eradication: prevention, vaccines and cure'.
We would like to invite you to join us on the 1st of December 2023. This is a free event, however, there are limited seats in the auditorium and so entry is by registration on Eventbrite.
Sign up here: https://www.eventbrite.co.uk/e/world-aids-day-tickets-736444263617?aff=oddtdtcreator
Looking forward to seeing you then!
World AIDS Day Evening Vigil by AIDS Memory UK (1st of December)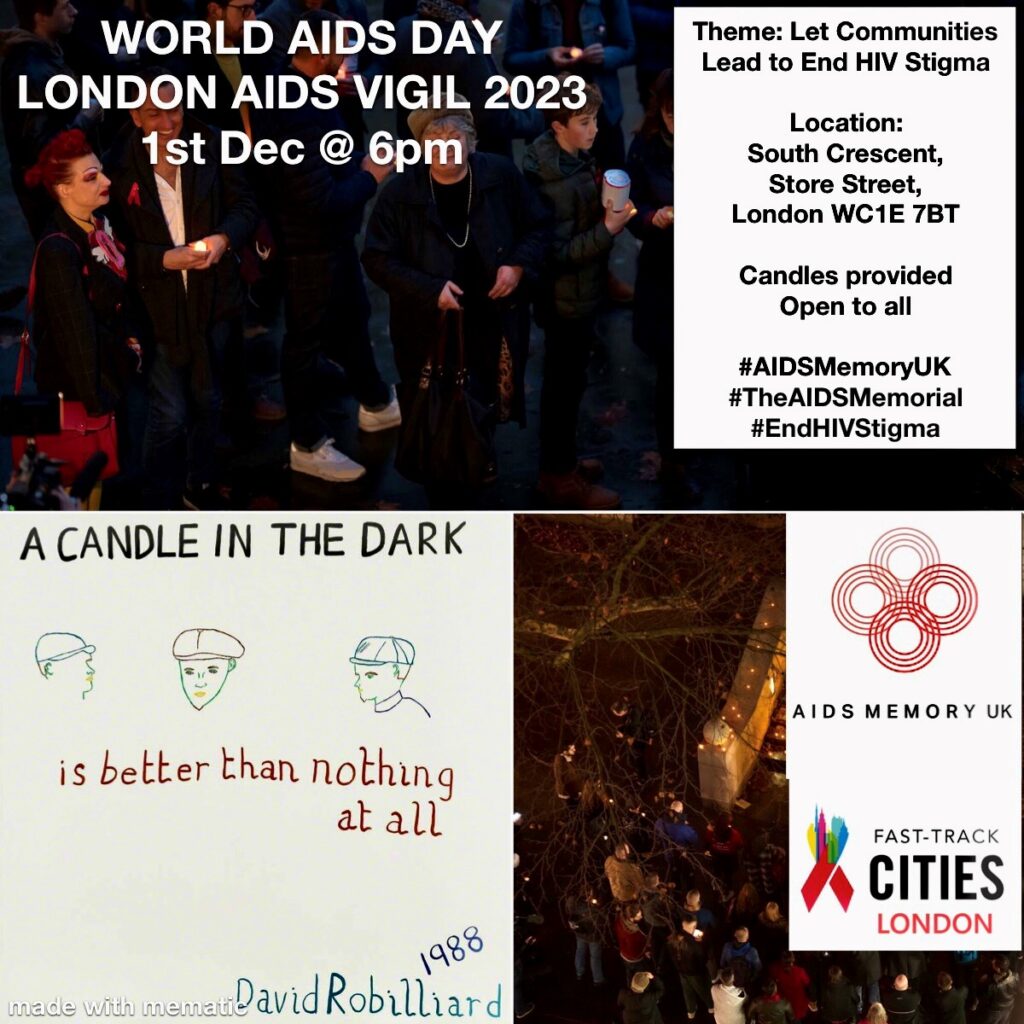 Wandsworth OASIS and METRO Charity's afternoon event at St Mary and St John the Divine Church (2nd of December)
Join us on Saturday the 2nd of December from 12 noon until 3pm for an afternoon to mark World AIDS Day 2023. The event takes place at St Mary and St John the Divine Church in Balham and  features guest speakers Rebecca Mbewe (Our Stories: Women Living with HIV) and Ash Kotak (AIDS Memory UK). There will be conversation, mince pies and mulled wine!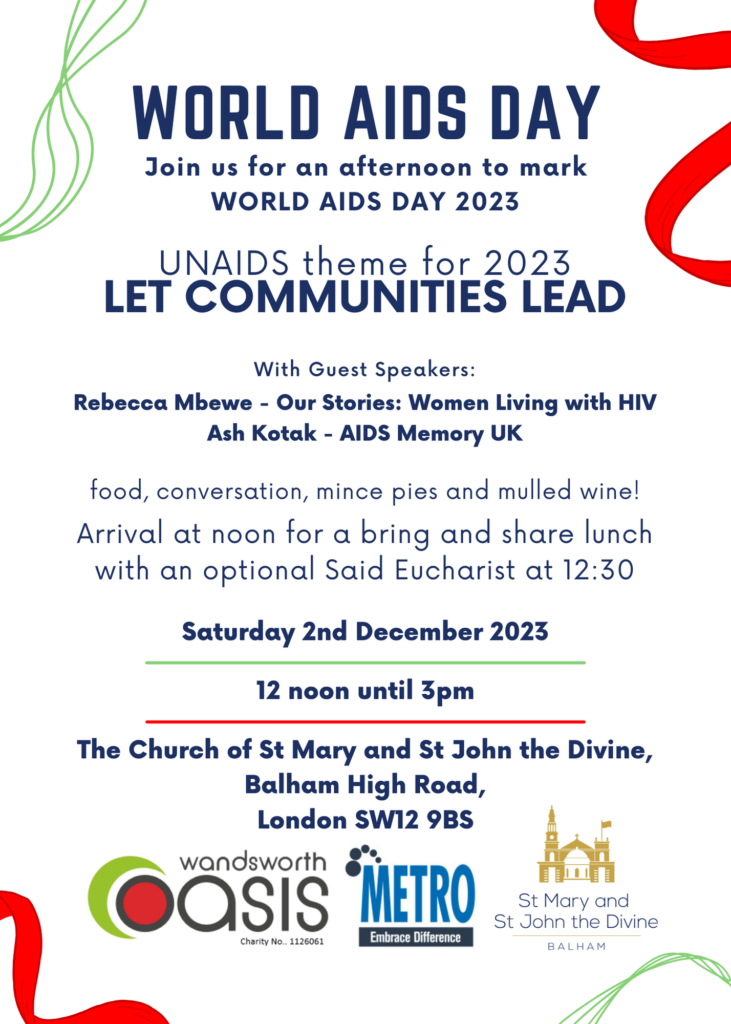 'Bless this Brunch' by Impulse Men, proceeds to Positively UK (3rd of December)
UK AIDS memorial quilts display in London (3rd of December)
Memorial quilts on display at Positive East 159 Mile End Road, Bethnal Green, E1 4AQ from 10am – 4pm, open to all.