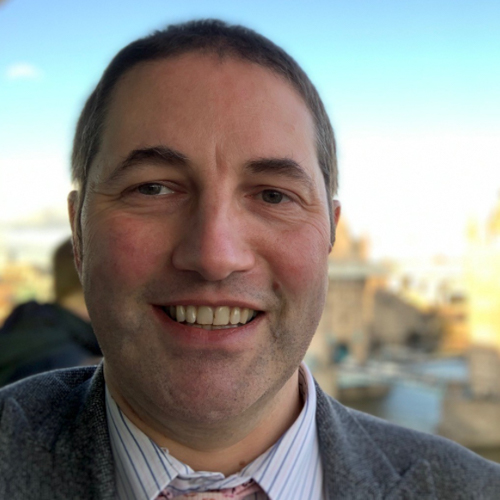 Simon Hall
Director of Transformation East London Health and Care Partnership
Integrated Care Systems/STPs representative

Simon's role on the Fast-Track Cities Leadership Group is to represent the five Integrated Care Systems and make sure there is a connection between the delivery of the NHS Long Term Plan commitments and Fast-Track Cities London.
Simon has over thirty years' of experience working in the public sector, largely at the interface between health and social care, and is currently the Director of Transformation for the East London Health and Care Partnership (the partnership of eight local authorities, seven NHS Clinical Commissioning Groups, three acute hospital trusts and two community/mental health trusts responsible for transforming care for the 2.1 million people in north east London).
Following three years working in the NHS in Greenwich, Simon became the Managing Director for Tower Hamlets CCG in 2016 and led the development of the new models of care that have formed the basis for much of the NHS Long Term Plan that was published in 2019.
In recent months Simon has also been leading on COVID testing for north east London.
Simon started working in the health and care sector as he was part of the early days of the community response to the HIV/AIDS epidemic. He was involved with the Cambridge AIDS helpline back in 1985 and ended up having the second HIV specific policy/development job in England at Coventry in 1988. Simon was involved with developing much of the early HIV health promotion information for gay men with the Health Education Authority and the Terrence Higgins Trust for a decade from 1986. In 1992 Simon was one of the original ten "angry men" that founded Gay Men Fighting AIDS.
As well as his paid work, Simon remains passionate about the voluntary and community sector, and is currently a Trustee of the University Schools Trust that oversees the running of two schools in Tower Hamlets (St. Paul's Way) and Greenwich (Royal Greenwich Trust School). He is also a Trustee and Treasurer of Metro, an equality and diversity charity providing health, community, and youth services across England.
read more about FAST-TRACK CITiES